Monday 18th of December 2017
Location: home/charities
Charities
(1) Santa María Third Level Education for Poor Families in Paraguay
Santa María de Fe (Saint Mary of Faith) was a thriving Jesuit reduction (or mission) in the seventeenth and eighteenth centuries, but today is a small town of around 4,000 people and massive unemployment. The Santa Maria Education Fund was begun in 2001 by English journalist Margaret Hebblethwaite, to help with the costs of tertiary education among the rural poor in the village where she lives in the south of Paraguay.

Some examples of the work of this Charity are:

Natalia, she studies Odontology at the Universidad Católica in Encarnación. Monthly fees are three times more than for non-medical subjects. In her final year practicals she is working on the mouths of the poorer people.

Daisy, Adrián and 15 year old Wilson had passes in Cambridge First Certificate English.
£24 pays for six end-of-semester exams at the Universidad Católica
£30 pays for three month's fees for a Food Technology student
£63 pays the fee for one Cambridge Key English test
£152 pays one month's fees for Natalia in her dentistry studies
(Photo Credit: http://www.santamariadefe.org/images/graduates2004.jpg)
The Santa Maria Education Fund
UK Reg. Charity No. 1105031
The Santa Maria Education Fund Website
(2) Let the children live!
Let The Children Live! is a charity that works in Colombia with children from the streets and shanty-towns of the city of Medellín. These children are called 'the disposable ones' and they live, and sometimes die, in the streets and rubbish dumps of Colombia's cities. Their ages range from six-year-olds to teenagers and they are often unloved, unwanted, beaten, robbed, raped and murdered. The charity aims to safeguard the lives of these children from the poverty and violence of the streets and to make their lives worth living by giving them love, education and a future. It is currently working with 600 children and young people, both boys and girls.

Cities in Colombia are more violent than nineteenth century London was. Violence has risen as rival gangs have fought to win control of extortion, prostitution and sale of drugs. Gangs have been recruiting children as young as 10! In the first seven months of 2011 children were being killed in the city of Medellín at a rate of two every three days.

Let The Children Live! provides food for malnourished children, programmes for children with high social risk and those with behavioural and learning difficulties, a young mums' programme for teenage girls and their babies, residential homes and even a choir.
(Photo Credit: http://letthechildrenlive.org/wp-content/uploads/2010/11/The-Three-Boys.jpg)
Let The Children Live!
PO Box 11
Walsingham
Norfolk
NR22 6EH
United Kingdom

UK Reg. Charity No. 1013634
Let The Children Live! Website

(3) Children with Cancer in Malawi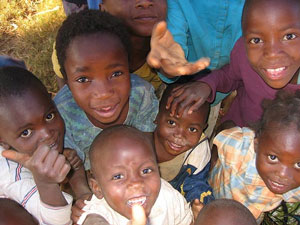 Children with Cancer in Malawi is a UK-based charity, established to support the care of children with cancer in Malawi. Malaria, tuberculosis, malnutrition, and more recently HIV infection, are the main causes of death in Malawi. Not surprisingly, the government health service is concentrating on these problems rather than on cancer.

Children with Cancer in Malawi was established by 7 members of the Newcastle upon Tyne Paediatric Oncology Team, following a visit to the Paediatric Oncology Unit in Blantyre, Malawi. They were impressed by the difficult circumstances in which a dedicated but very under-resourced team in Malawi operate. They wanted to help the children of Malawi in a small but important way.

Every year the parishioners of St. Andrew's raise money, part of which pays the salary of a Nurse in Malawi. The nurse is called the St. Andrew's Nurse and at this time is Sister Ng' Gonga.
(Photo Credit: Creative Commons License - http://www.flickr.com/photos/khym54/533153340/)
Children with Cancer in Malawi
Ward 14 Day Unit
Royal Victoria Infirmary
Queen Victoria Road
Newcastle-upon-Tyne
NE1 4LP
United Kingdom

UK Reg. Charity No. 1111112
Children with Cancer in Malawi Website